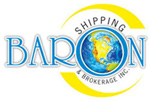 Back to School Barrel Service
Let us take the hassle out of 'back to school' this year. Ship any size barrel from Miami to St. Lucia in just five (5) days for only US 65 per barrel*.
- No Bill of Lading Fee
- No Advance Necessary
- No Surcharges - *local administrative fees apply
It's never to early to get ready for 'Back to School'!